We just came back from Temecula CA, I have to say that was an awesome wine trip. The first winery we visited was called BELLA VISTA! I read a sign that said "The first Winery"  
At the entrance you will probably be greeted by the owner lady. She will be at the register waiting for you.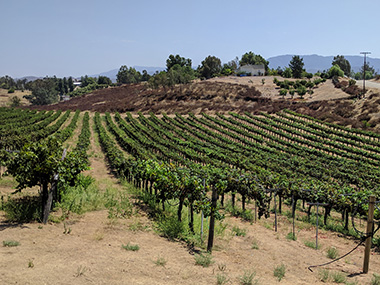 They still use big blue heavy coins (Tokens) for the tasting. So you will get a menu with all their wines and champagnes and 
Bella Vista had the best champagne in the world! Their description:
1- This smooth and bubbly is not too sweet and not too dry. Light and refreshing with tiny fine bubbles. Pairs great with brunch, shrimp cocktail or even buttered popcorn! 
The aftertaste was sweet and a bit dry, the aroma was just perfect. It was very easy to fall in love with their champagne ... We did not join their wine club but we must come back for more.
Beautiful Landscaped Parking Lot... Right next to this bushes you can see the hill that goes to the top of their property , there you will have a nice view of the vineyards that surround Bella Vista. It is breathtaking and relaxing (especially if you bring your glass of wine with you) . 
How to get there?
Address: 41220 Calle Contento, Temecula, CA 92592 
Bottom line: Great old winery with a lot of history, awards, nice bartenders and awesome sweet champagne.